Eighth Annual St. Gregory the Great United In Spirit Gala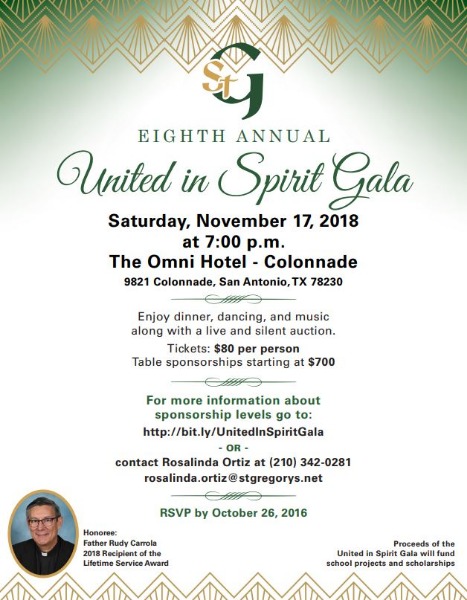 St. Gregory the Great Catholic School opened in 1955 and was founded by the Sisters of Presentation of the Blessed Virgin Mary Congregation. Our Catholic Community exemplifies the spirit of Catholic faith beginning with our Pastor, Father Rudy Carrola and manifesting itself throughout the entire school community. St Gregory the Great is a fully accredited school, challenging children in grades Pre-K3–8th grade, both spiritually and academically. St. Gregory the Great has been able to keep tuition affordable through the generosity and support of our charitable donors.
Every year, St. Gregory the Great honors a special individual from within our community at our annual United in Spirit Gala. The honoree is presented with the Lifetime Service Award which is given for their service and dedication to the school and parish. This is the 4th year that St. Gregory has awarded this distinguished honor and it is given to an individual who exemplifies the core values of our community. This year's gala is Saturday, November 17th at the Omni Hotel at the Colonnade.
Our honoree this year is a true servant leader. Whether facilitating prayer, leading the community with positive vision, joining the students for lunch, helping at the crosswalk, or cutting the grass on the school fields, his example has inspired many. We are blessed and honored to work with a pastor who loves the school and parish and is dedicated to advancing the mission of St. Gregory the Great and Catholic education. This year's Lifetime Service Award recipient for the 2018-2019 school year is Father Rudy Carrola. He has shown us how to live a life of service and humility. We are grateful for the time and patience that he devotes to our church and school…he shows us the true meaning of servant leadership. As part of our philosophy at St. Gregory the Great Catholic School, we are committed to building a strong Christian community and to fostering Christian service. This is a philosophy that truly personifies Father Rudy. We would like to thank him for all he does for the community and showing us how to live a life of prayer and Christ-like service.
This year the Fund-a-Need portion of the United in Spirit Gala will benefit our Charger Fund. This fund supports our tuition assistance program which helps provide access to a quality, Catholic school education at St. Gregory the Great. Last year, more than 300 of our StG community members and their guests attended the Gala and we expect an even larger gathering this year. We hope you will consider sponsoring at table, donating towards the auction, and/or attending this special event. Your generous support will help provide educational resources that include academic programs, technology upgrades, curriculum materials, fine arts programs, library books, teacher professional development, and tuition assistance to the students of StG. Each year, the gala provides invaluable support for the school's mission – nurturing in our children and one another, spiritual, personal and academic growth through prayer and Christ-like service.
Join us in contributing toward a legacy of student success, by becoming a St. Gregory the Great sponsor! At your convenience, please review the enclosed sponsorship information. Thank you in advance, for your consideration of sponsorship for the St. Gregory the Great community.
If you are interested in purchasing tickets or sponsoring a table for this event, please fill out a form in our Sponsor Level Summary Page, or you can contact the Office of Advancement and Enrollment at (210) 293-3299 or via email at rosalinda.ortiz@stgregorys.net.
For discounted rates at the Omni Colonnade during the weekend of the event, please click here.